Structure of Sanchi Stupa

Sanchi Stupa is one of the presentations of great architecture of history. In this resource, you will find information about the structure of Sanchi Stupa, Four Gateways surrounding Sanchi Stupa and Illustrations of Lord Buddha's life on Sanchi Stupa.


Structure of Sanchi Stupa

As great and esteem is its history, so is the wonderful sculpture accompanying it. The structure can be explained in simple words as, it is a cylindrical walled makeup intersecting with a hemispherical dome. The cylindrical boundary is surrounded by continuous Balustrades (Rail like structure). It is the one which drags the visitors, being a unique composition amongst all Stupas.

Here are the numerical figures of its dimensions:-
Diameter of Sanchi Stupa: 36.5 m
Height of Sanchi Stupa: 16.5 m

The Four gateways in the North, South, East, West directions, again of amusing architecture with engraved scenes of Lord Buddha, are another attraction. They are known as Toranas. More specifically, the different gateways show various life stages of Buddha.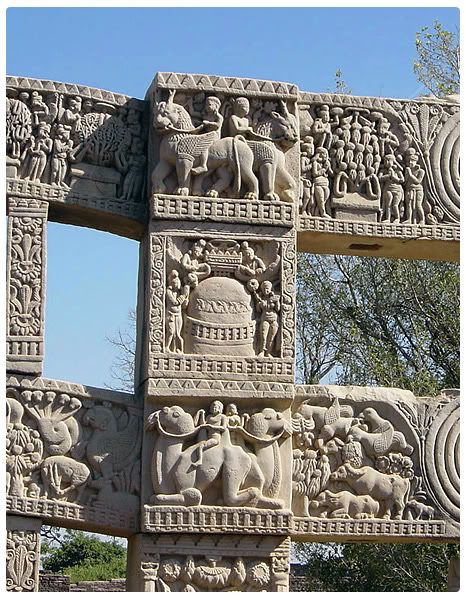 One of the four gateways of Sanchi Stupa

Starting from the Eastern Gateway; here his infant ages are seen, when he was about to step his journey of enlightenment. As we know, that Lord Buddha, as young Siddhartha, was inspired by some peculiar deeds of people, when he first set out to view the world. So, he decided to leave his palace to search the ultimate.
The second gateway or the Western Gateway is found depicting the seven lives (Incarnations) of Buddha.
The Northern gateway depicts the miracles associated with Buddha's life and his magical influence on the people. The stories of Jatakas are believed to be extracted from here only. However, they have been amplified a little bit with the help of information from other sources.
The last one, Southern gateway is the most important one, in terms of historical significance as it is the one which reveals the secrets of birth of Gautama Buddha. It is also the one built the earliest of all.

It is also to be noted that the depictions are not shown directly with Lord Buddha as the subject; rather, the typical illustrations symbolize them. For e.g. The wheel symbolizes his salvation, the flowering lotus indicates his birth and the Bodhi tree shows his enlightenment.

Visit these links to know more about Sanchi Stupa:-
• Location of Sanchi Stupa
• History of Sanchi Stupa
• Attractions around Sanchi Stupa
• How to Reach Sanchi Stupa?
• Best Time to Visit Sanchi Stupa